When it comes to long range shooting accuracy there are a lot of small factors that can have a big impact on your accuracy and the success of your shot. You might even need to tap into those high school physics classes you slept through and crunch some numbers if you really want to make a long shot. World class snipers are known for a keen attention to detail among other things that makes it possible to hit a target over a mile away. How does one go about making the necessary measurements and calculations to make such difficult shots? It's important to first recognize what factors will change your bullet's trajectory and then understand how to change your aim to compensate. Here we'll look at some of the different factors that come into play when shooting long distances and how you can learn to calculate your own shots.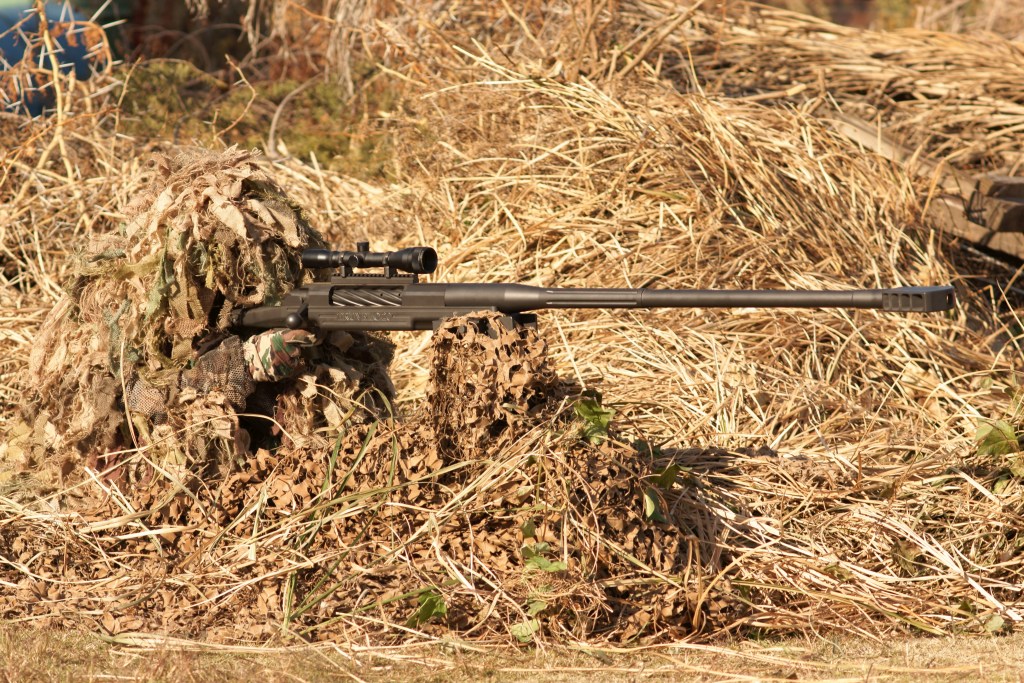 Wind
When it comes to wind it's important to recognize when it will be a problematic factor for making a long shot. Typically, when wind is steady it can be easily calculated and won't be a huge issue for an experienced marksman. However, gusty and unpredictable winds can make even the most professional snipers lose their accuracy. Now, imagine a target 1,000 yards away with a windspeed of 5 m.p.h. moving perfectly perpendicular to the target. How much will this cause your bullet to drift? Assuming a caliber between .45 and .90 with a velocity of 1,300 feet per second the bullet will drift a full 75 inches. Each additional mile per hour increase in wind speed will add another 15 inches of drift. Of course this is a textbook example but the basic idea remains the same for real life conditions. With some basic math and geometry you can get a general idea for how much the wind will impact your bullet's trajectory in a real life scenario.
Temperature
This is one factor that might often be overlooked by amateur marksmen. In general warm air is less dense than cool air and will experience less of an elevation drop and will even retain more of its kinetic energy upon arrival at the target. Using the same scenario as before with a target 1,000 yards away we can get a general idea of just how much the air temperature will impact the accuracy of a long range shot. Again, using a bullet caliber between .45 and .90 and a velocity of 1,300 feet per second a bullet will drop 1,700 inches at a temperature of 40 F, 1,650 inches at a temperature of 60 F, and 1,600 inches at a temperature of 80 F. This works out to an decreased drop of 50 inches per 20 degrees Fahrenheit over 1,000 yards. In terms of impact energy every increase in temperature by 20 degrees yields about an extra 40 joules. Additional temperature factors include the temperature of the barrel, the shooter, and the ammunition though these get a bit more complicated and much more difficult to calculate.
Humidity
This is one factor that is actual less important that you might think. The general reasoning is that humid air is going to be more dense because it is holding more water however this is not the case. In fact, humid air is less dense than dry air. Here we'll look at the same scenario before and we can see just how much humidity will impact a long shot's accuracy. The difference of elevation drop between 100% and 0% humidity (over 1,000 yards with a bullet velocity of 1,300 ft/s) is only 5 inches. Compare this to a 20 degree change in temperature that causes an elevation drop difference of 50 inches and you can see how minimal of an impact humidity actually has.
Elevation
Lastly, another important factor is the elevation or barometric pressure of where you are making your shot. This can have a significant impact on your accuracy for the same reason that temperature does: air density. Assuming the same conditions as the rest of our examples a bullet at sea level will drop ~1,670 inches while one at 2,500 feet will drop ~1,640 inches and one at 5,000 feet will drop ~1,610 inches. As you can see and might have expected by now the increase in elevation means the air is less dense which causes the bullet to retain more energy and decrease its drop in elevation.