When it comes to gun safes you can never be too diligent in picking the right one for you. Sometimes it can help when shopping for a gun safe to know a little bit more about some of the common and successful brand names out there. Most of these companies have earned a level of respect over decades of dedicated business practice that have proven them reliable and trustworthy. Whether you buy from a popular brand name, or a new company trying to make its name, is up to you but as always it's best to stay informed about your options. Here we'll look at a common safe brand Gardall and check out a little bit of its history and what it has available.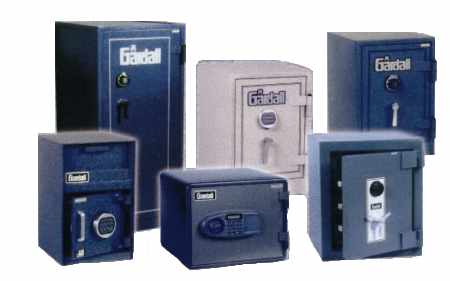 Gardall's history goes back to the 1930's in America with the safe manufacturer ProtectAll which was started by George Bloch. This company was successful and respectable for some time but was eventually bought by the Mosler Safe Company for one million dollars. Later, when the original ProtectAll manufacturing plant was closed down in 1949 the financial advisor of ProtectAll, Henry Bluestone, decided to branch out and start his own company Gardall. Though it was initially plagued with financial issues Gardall eventually found stability when partnered with Thor Metal Products and the Falso brothers. Eventually control of Gardall was transferred to the Falso Brothers in 1970 and Henry Bluestone returned to his area of expertise in sales and accounting. From there the rest is history and Gardall has been slowly growing to become a major player in home and commercial safes worldwide.
Gardall, today, is a jack of all trades in the safe world. They offer everything from fire safes, gun safes, media safes, and customized safes. They put a large emphasis on state of the art security with thorough protection of your goods. Underwriters Laboratory has reviewed a number of Gardall products and awarded the prestigious UL security ratings to many of them.
The Gardall difference can be summed up in five simple points.
Premium Quality Manufacturing: Gardall uses high quality materials, and a combination of time tested and state of the art manufacturing techniques.
Varied Product Line: As previously noted there is a lot of variance in the products offered by Gardall. With over 120 safes in the product line and security ratings from RSC, TL-30×6, and UL-2 hour (1850 deg.) you can find almost anything among the Gardall products available.
Innovative Design and Engineering: Gardall stays on the cutting edge with security protection and anti-theft systems.
Superior Customer Service: Gardall boasts incredible customer service in helping you find the right safe and a regular availability to answer any questions you may have.
Nationwide Dealer Network: Today, Gardall has 3,000 dealers in the United States and is various options for purchasing and transporting safes worldwide.
Next time you're looking for a safe keep in mind the perks of the time tested yet modern American company Gardall and check out its famous product line today.